Cooking Tip: Grill with a digital meat thermometer and cook whole muscle cuts to an internal temperature of 145° F (+ a 3-min rest) and ground pork to 160° F.
Pork Cooking Temperature
Grilling Pork Tips
To prevent pork from sticking to the grate, scrub grates clean and coat with vegetable oil or a nonstick vegetable oil spray prior to using.
Do not use sharp utensils that may pierce the pork when flipping, as piercing allows flavor-filled juices to escape. Use spatulas or tongs for turning.
Frequently flipping pork on a cooler area of the grill is better than accidentally burning it on an area that is too hot.
Sugar-based sauces (many commercial barbeque sauces) tend to burn if applied too early. Baste during the last few minutes of cooking.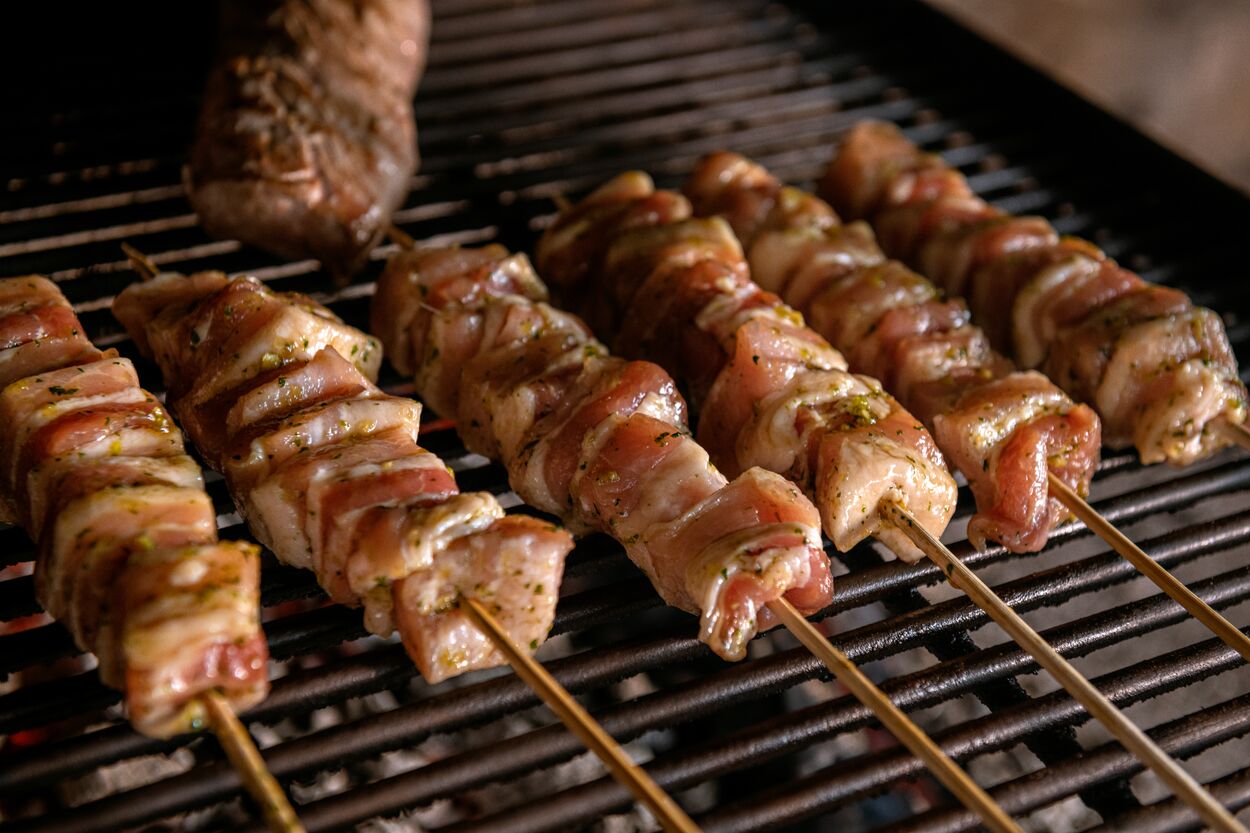 How To Grill Pork Video Playlist
We've put together a Pork Grilling 101 playlist for you to get all the information and inspiration you need to fire up the grates and grill some perfect pork.
How Long to Grill Pork?
The best way to ensure peak deliciousness is to cook by temperature with a digital meat thermometer. Grill pork over direct, medium heat; turning once halfway through.
Pork Cooking Times & Temperatures
Cut
Time & Temperature

Bone-In Pork Chops

¾-inch

1 ½-inch

Internal Temperature: 145° F

Average Cooking Time: 8-12 min

Average Cooking Time: 22-35 min

Boneless Pork Chops

¾-inch

1 ½-inch

Internal Temperature: 145° F

Average Cooking Time: 8-12 min

Average Cooking Time: 12-22 min

Ground Pork Patties

Internal Temperature: 160° F

Average Cooking Time: 8-12 min

Pork Tenderloin

1 ½-inch

Internal Temperature: 145° F

Average Cooking Time: 20-30 min

Loin Kabobs

1-inch cubes

Internal Temperature: 145° F

Average Cooking Time: 8-10 min